Martha Stewart Paint Color Matches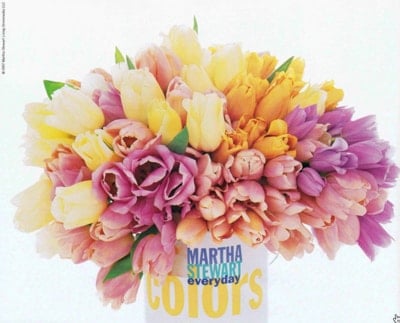 For more than 30 years, Martha Stewart provided paint and color collections through partnerships with different paint manufacturers and sold through various home centers including Kmart, Lowe's and Home Dept. A few years ago, Martha Stewart decided to stop selling paint and as a result it is no longer available in stores (beyond some smaller craft paint varieties) and thus for many people these are simply discontinued paint colors.  But you are not out of luck, because you can find Martha Stewart paint colors at MyPerfectColor, of course!  Here's a great writeup of the history of Martha Stewart paints. 
To find your desired color, simply enter your search query in the box below:
MyPerfectColor is able match all of the Martha Stewart paint colors so you can still find and enjoy the colors you love. MyPerfectColor uses its expert capabilities to recreate the original Martha Stewart color by matching the original Martha Stewart color books and swatches. MyPerfectColor is not using Martha Stewart paint as this is no longer available.
MyPerfectColor matches Martha Stewart colors based on Martha Stewart color publications. The colors shown on this website are computer video simulations of the Martha Stewart Color and may not match Martha Stewart Color standards. Refer to Martha Stewart Publications to obtain accurate color.
Please know that MyPerfectColor is matching the original Martha Stewart color. If you intend to touch up paint that has been on your walls for years, know that your color has undoubtedly changed from the original due to exposure to light and age and the new paint may not match. You will achieve best results by recoating the entire surface.
FAQs about Martha Stewart Paint Colors
Is Martha Stewart paint Discontinued?

Martha Stewart no longer has paint made under its brand name. For many years, Martha Stewart contracted with various paint manufacturers who made and sold paint under the Martha Stewart name. In early 2012 Martha Stewart decided to completely exit the paint business. MyPerfectColor can reproduce Martha Stewart colors using different paints depending on what you are painting.
What Type of Paint are Colors Made With?

MyPerfectColor offers many different types of paints involving at least 4 different paint systems, each of which uses different pigments and base systems. For difficult-to-match colors, MyPerfectColor often starts with a clear base, free from fillers often used by paint manufacturers to claim one coat coverage, but which get in the way of matching colors. While these fillers are don't pose a problem for muted colors commonly used in homes, they impede the ability to match brighter, saturated colors required for brand, logo and product colors.

Learn more

about the type of paint used to make colors.
How does MyPerfectColor match Paint Colors?

MyPerfectColor has hundreds of color books in its library. We are able to match the colors and verify that they match the original. Please note that if you are trying to touch up, the paint on your wall now is likely different than it was when first painted. MyPerfectColor will be sending the original color which may no longer match your walls.

Learn more

about our color matching.
How Fast Will I Get My Paint?

All paint is custom made to order. Most orders ship within 2-3 days and 70% of orders ship within 48 hours. If you need guaranteed shipment within 1 business day we do offer an Expedited Production option available during checkout. If you have any questions or concers please contact us.

Learn more

about Delivery Times.
Page 1 of 33